Los Angeles & Mechanicsburg

Vendors Sink, Partners Swim
Ever had a moment where you realized, with absolute conviction, just how much you don't know, and how much ground you need to cover to close that gap? It's rather daunting, to say the least. Like jumping carefree into the shallow end of a swimming pool, only to discover it's actually the deep end; you're probably going to have to swim harder than you planned.
That's sort of what our first project with the folks at the National Association of Independent Schools (NAIS) felt like.
NAIS is a nonprofit membership association that provides services to more than 2,000 schools and associations of schools in the United States and abroad. With a robust and growing database, and a suite of powerful research & analytics tools like Market View and DASL, NAIS helps inform, guide, and co-create the future of education with their community of schools.
NAIS initially reached out to us to help refresh the design, language, and capabilities of the latest release of their Market View product. Market View provides a large set of both default and customizable reports, each offering key insights into very specific segments within the independent schooling market. With so much data available, part of the goal of this project was to help users understand and locate the tools of most value to them.
Which meant that first, we needed to understand the data (what it meant, who it mattered to, why it mattered, how best to visually present it, etc.). Complex data sets aren't new to us, but terms like "choropleth" and "sankey diagram" weren't exactly at the top of our lexicon.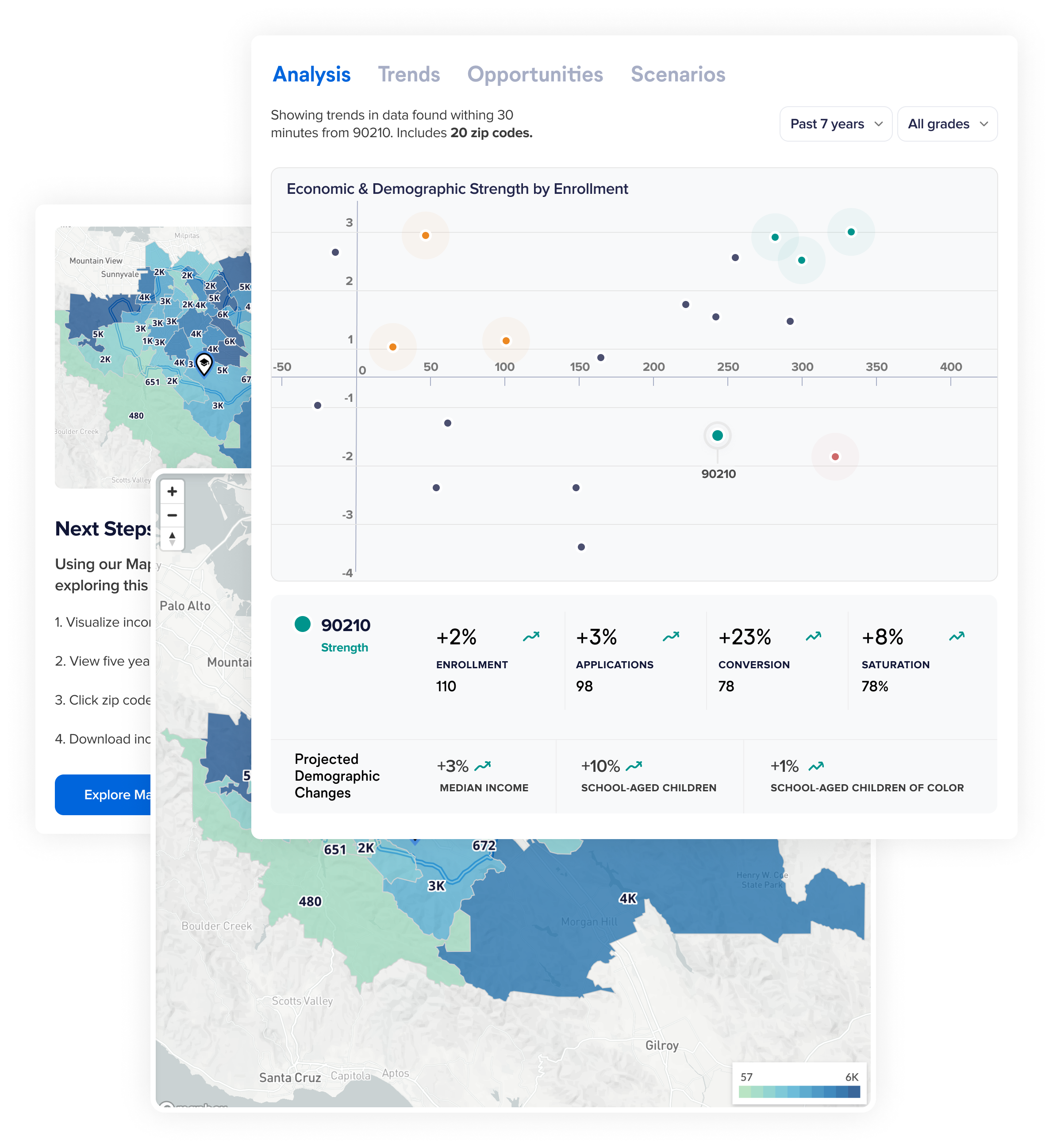 "Make&Model has been our team's design partner for several years running, and for good reason. They understand what we need, what our product needs, and most importantly what our users need. They bring an innovative approach to designing UIs, and have worked closely with us to identify the right design to bring our projects over the finish line. We appreciate Make&Model and their partnership!"

- Stephanie A. Wilkinson, Senior Director of Engineering
Thankfully, the folks at NAIS are very, very good at their jobs. Not only do they understand the ins & outs of their data, their tools, and their customers to an incredibly thorough degree, but they have the patience and thoughtfulness needed to bring comparative beginners like us to understanding. Through discussion, plenty of visual discovery and ideation, humor, and empathy, NAIS helped us become the experts(ish) we needed to be.
Working side-by-side with the NAIS team over the last couple years, and focusing on the consumers of their data and their very real-life use cases, we designed and helped implement both Market View 5, and its current successor, Market View 6. In each case, we worked as an integral part of the team to design a suite of entirely new, multi-variable data visualizations, all informed by user research and implemented with ease of understanding and a11y in mind.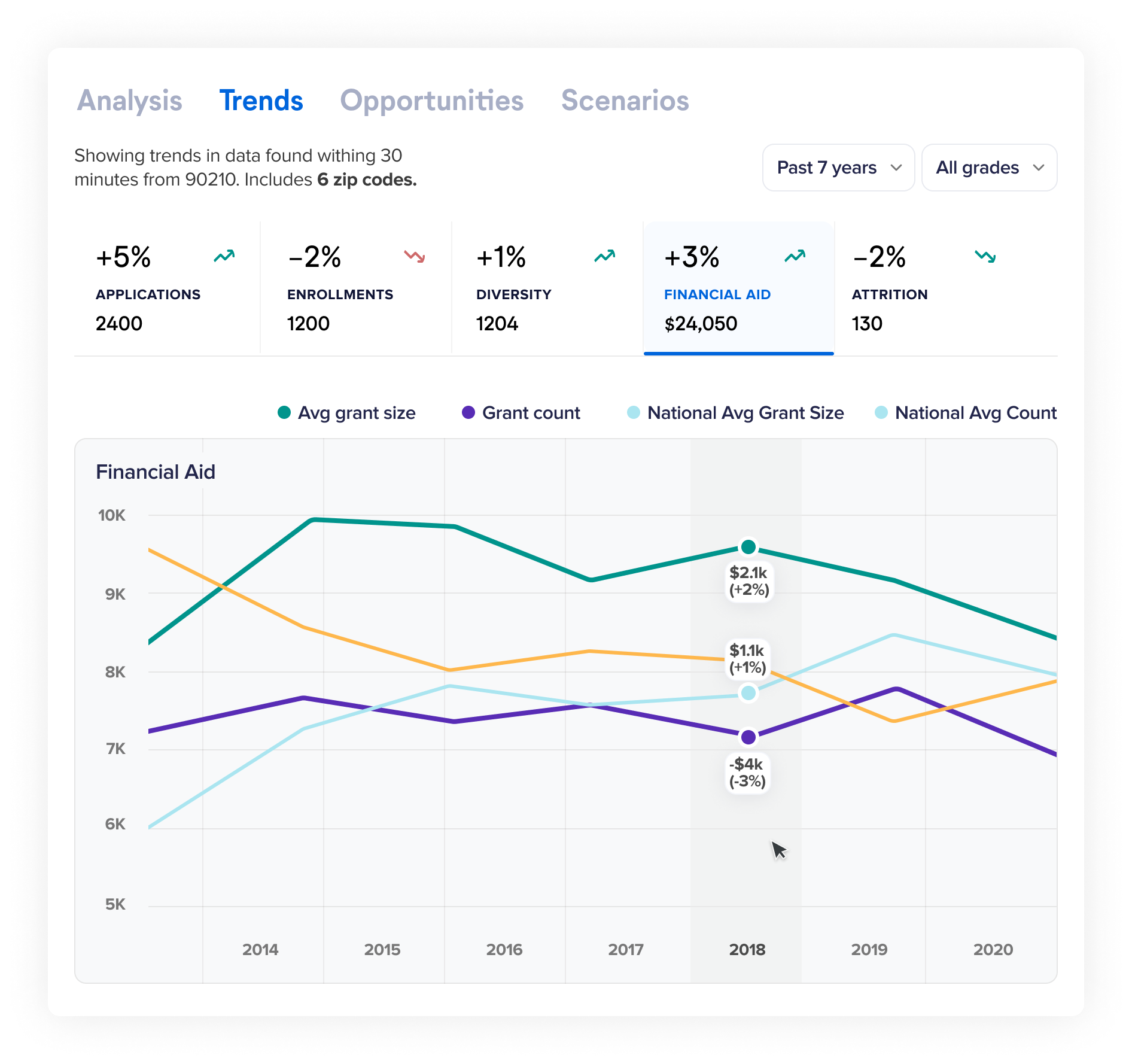 With Market View's latest and greatest in the world, NAIS turned our collective efforts toward their Data Analysis for School Leadership (DASL) product. They had an idea for a new, just-in-time style analysis tool to help employers at independent schools more effectively research compensation data, allowing them to put together competitive employment offers within their market, based on a large set of configurable variables. The intent was to provide independent schools with an intuitive visual experience that would allow them to see the impacts of adjusting available variables in real time. This marked a pretty significant shift for DASL, which historically leaned more into powerful - but sometimes rigid, confusing, or difficult to find - pre-packaged reports. With this new tool - dubbed Salary Explorer - DASL users can now adjust things like salary range, years of experience, student enrollment, and much more, and see the results of their changes almost instantly.
Salary Explorer is still pretty new in the world, but if all goes well, it will only be the first of its kind. Several other just-in-time analysis tools exist as brainchildren in the collective wisdom of the DASL team, and if the opportunity presents itself, we'll be there to help make them a reality.
NAIS is an ideal client for us: the work always presents satisfying challenges, we always learn a ton that we otherwise would likely not be exposed to, the people are delightful and patient collaborators, and it's all in service of providing better services to independent schools. We might occasionally have to swim harder than we planned, but NAIS is always right there with the life jackets and floaties if we need them.