Los Angeles & Mechanicsburg

Building a kinder, less wasteful world.
Food waste is a big problem. Hundreds of billions of dollars are spent producing food that literally goes straight to our landfills, every single year. That is a staggering amount of time, energy, and resources used to grow, process, and transport food that never gets eaten.
Imperfect Foods is a sustainably-sourced online grocer with a mission to save that food, and evolve the systems that originate waste along the way. Serendipitously, we're all active Imperfect Foods customers here at Make&Model, so you can imagine our delight at the opportunity to directly partake in growing their powerful mission.
Show, not tell
Having recently gone through a rapid evolution from produce-focused to full-service grocer, Imperfect Foods was looking for ways to more clearly show the full breadth of their service, value, and story to prospective customers.
Based on our learnings from a full day kickoff with the inspiring Imperfect Foods team, we knew we wanted to better highlight Imperfect Foods's compelling narrative, emphasizing how sustainability truly is woven throughout their entire business. From sourcing to scheduling and delivery and everything in between, we knew we wanted to leverage visual storytelling to make it easier to find and understand the impactful details of the service itself.
Our work together led to a 17% decrease in cancellations, a 20-30% decrease in first order bounces, and a 10-12% increase in first and second average order value.
"Make&Model were the perfect partners for Imperfect Foods. We were blown away by the depth and breadth of their creativity and commitment - truly, no stone was left unturned. There is so much uncharted territory to navigate during a company's growth stages and they helped us do so with humor and grace."

- Jenn Vo, VP, Product Design & Creative at Imperfect Foods
Principles guide the way
To ensure the myriad design decisions we'd face along the way were anchored to a consistent mental and tonal framework, we collaborated with folks from across the Imperfect Foods organization to distill and refine a set of cohesive design principles. They can be summarized as:
Show, not tell
Seriously delightful
Clarity along the journey
We referred back to these often throughout the project, using them as a mirror against which we could reflect the landscape of possible directions, to help guide us to those most consistent with our principles.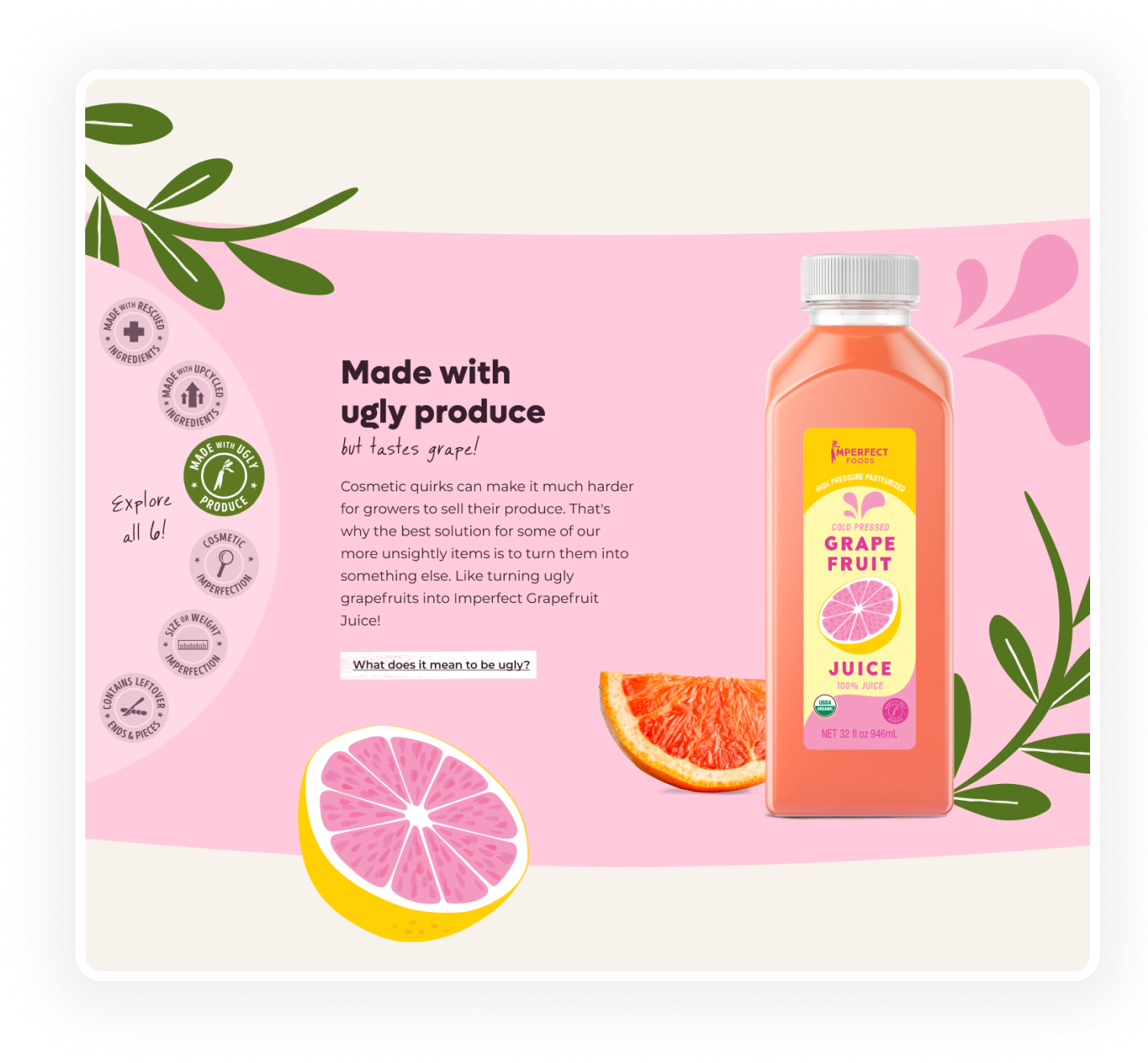 Partnering with Imperfect Foods's entire creative team, we leaned heavily into a visual storytelling approach with the intent to both inform as well as spark joy. We leveraged Imperfect Foods's characteristic illustration style to create informative, fun, and beautiful mastheads to lead into key pages of the marketing site. Animated and interactive elements were strategically positioned throughout the entire experience to further educate - and delight - visitors. Among many other examples, this included animations explaining how the service works, Imperfect Foods's unique "last mile" delivery model, and an interactive "impact slider" to tangibly show how customers make a difference over time.
Working closely Imperfect Foods's incredible photography team, we not only helped create illustrative compositions showcasing each category of food the company offers, but also defined rules around when and where to use what types of photography, and how that photography should pair with other visual assets.
Thanks in no small part to the tireless efforts of our partners from across Imperfect Foods - spanning from customer care to development, and everything in between - the new site came together beautifully.
With the revamped marketing site design-complete and in the development team's capable hands, Imperfect Foods started to think bigger and broader -- where might the organization want to focus in the coming year? 3 years? 5+? Through a massively collaborative undertaking involving five teams working in parallel across multiple Sprints, we helped Imperfect Foods dream big, then distill those dreams into a tangible "north star" prototype. It will serve as a cohesive vision of future product and design aspirations for years to come, so we can't get into specifics just yet, but we eagerly await the serious delights Imperfect Foods has in store.