Los Angeles & Mechanicsburg

Leave the
Earth, better.
End-of-life planning isn't an easy subject to talk about. It can be uncomfortable, grim, and fraught with complications. Better Place Forests, an organization providing a sustainable alternative to cemetery burials, is looking to change that.
As part of that mission Better Place Forests needed a more compelling way to both tell their story, and to evolve their online presence. By focusing on the mission and the people it seeks to help, and thinking holistically about the story telling tools available, Make&Model developed a comprehensive content and design strategy to reshape and refocus Better Place Forests' online presence.
Keeping the mission top of mind, we conducted a variety of user interviews and tests to better understand what is actually important to the people at the end of this story. One of the most common themes: straight, sincere talk. People want to understand what their options are, how things work, and to speak with those comfortable talking about death, last wishes, and ongoing commemoration. With these insights, we developed a content strategy to help navigate the general discomfort around death, using values of approachability, respect, and optimism as our key pillars.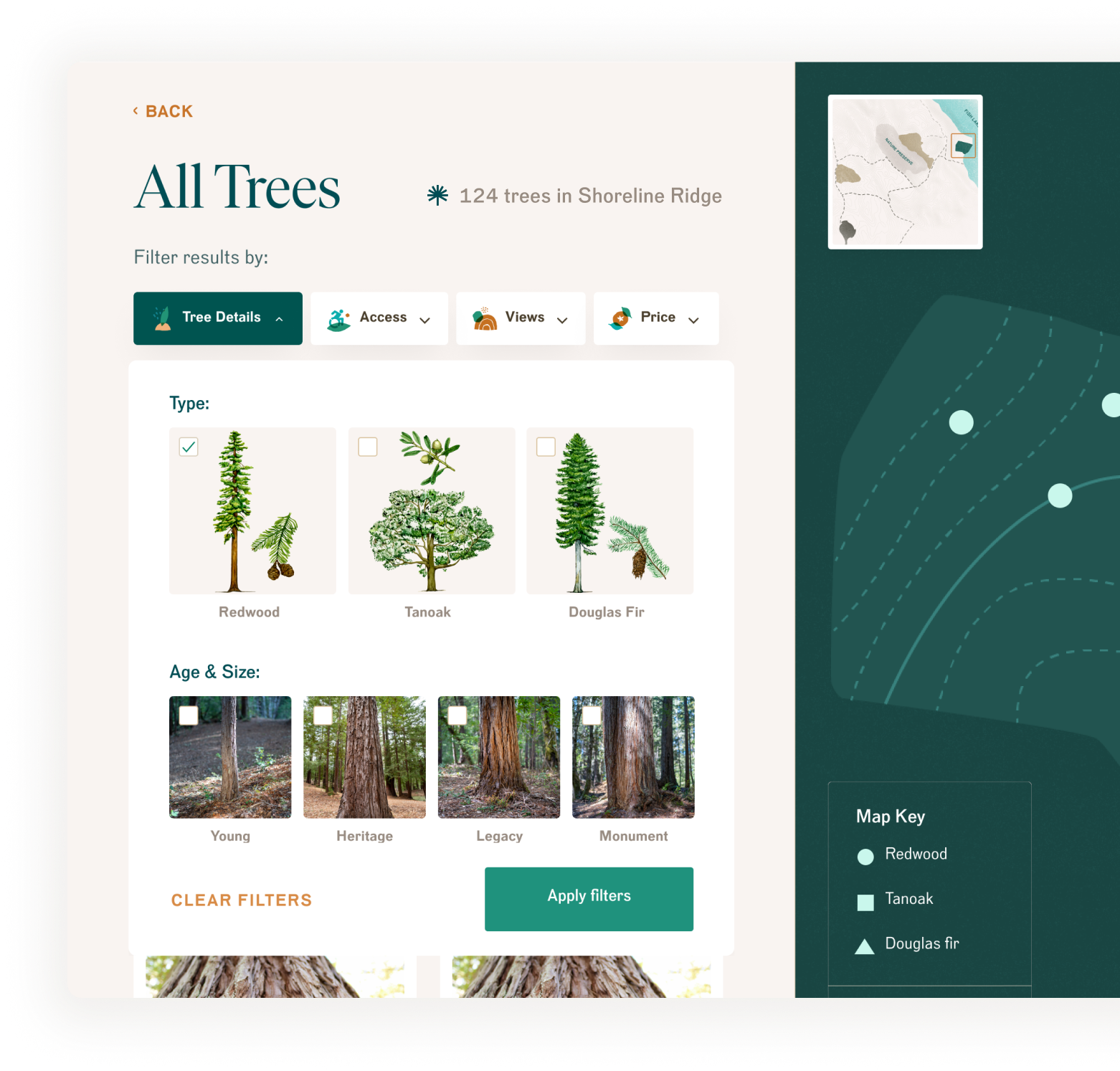 "We knew we could trust the quality of work from Make&Model, but what was truly impressive was their ability to collaboratively problem solve, to remain organized with an ambiguous starting point, and their thoughtful, empathetic leadership. Stated another way, it really felt like they were in the trenches with us and received and incorporated team feedback thoughtfully and elegantly."

- Matthew Smith, CMO of Better Place Forests
Better Place Forests' new voice went hand-in-hand with an evolved design language. After a robust exploration that included moodboarding exercises, mock-ups, and fruitful collaboration, we created a warm and welcoming visual system that harmonized with the newly established tone of voice. Human-oriented photography, an organic illustration style, and expressive typography are all united to form the foundation of Better Place Forests' design language.
Leveraging both our new content strategy, and evolved design language, we began stitching together the next key component to the new Better Place Forests experience: a new website and accompanying digital strategy, designed to connect with a wider audience and clearly articulate the value behind the company's expansive service offering. Research, interviews and user testing directly informed the architecture of the site, leading to an experience that showcases a more accessible narrative, evolved content hierarchy, and fluid design.
Our new and improved design system worked wonders, but we knew it would also need to sustain itself against future iterations as business goals change and evolve. With this in mind, we developed a comprehensive library of scalable design components to maintain consistency in execution, future page creation, and collateral materials. This system—nicknamed "Spruce"—acts as a kit of parts for designers, writers, and marketers to be applied across various touchpoints.